Article from the York-News Times
Patriot Day focuses on Country, Faith and Family.
For a second year, Nebraska Evangelical Lutheran High School (NELHS) put on a special Patriot Day program.
Tuesday veterans and other guests joined NELHS faculty, staff and students to learn about the Missing Man Table and the Lutheran Military Support Group (LMSG).
Steven "Skip" Bremer, NELHS principal, opened the program by discussing the parallels between earthly warfare and spiritual warfare.
"Every single one of us, whether we realize it or not… are involved in a war every single day of our lives," Bremer said. "We are fighting against an enemy more terrible, more deadly than Islamic terrorists. We will always be fighting the war against our enemy: Satan."
Following Bremer's opening, the presentation of colors was carried out by York Area Honor Guard. The NEHLS band then performed their rendition of the National Anthem.
A significant part of the program concerned educating students about aspects of the military they might not have otherwise known.
Nebraska Evangelical Lutheran High School dorm supervisors Ben Olsen, Martin Santos, Megan Schoch, and Holly Marquardt gave a presentation on the Missing Man Table.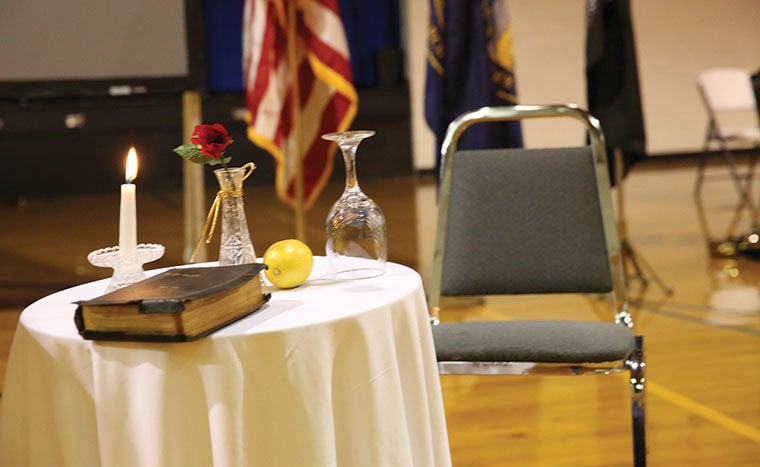 The Missing Man Table is set up at military dining events of the U.S. armed forces in memory of fallen, missing, or imprisoned military service members. The table is generally set near the entrance to the dining room. Each element of the table has a special meaning, which was explained by the presenting dorm supervisors.
A small, round table is set for one, symbolizing an isolated prisoner and the everlasting concern for missing loved ones. The tablecloth is white, for the purity of their dedication to respond to our nation's call to arms. A vase containing a single red rose signifies the blood that many have been shed for the freedom of our country. This rose also reminds us of the family and friends of our missing comrades waiting for their return.
A slice of lemon represents the bitter fate of the missing. Salt sprinkled on the setting symbolizes the tears of families as they wait for their loved one's return. An inverted glass is set on the table, for the missing and fallen.
The Bible represents spiritual strength and faith to sustain the missing, with the light of hope represented by a single lit candle. An empty chair is left for the missing and fallen.
"This year with the Missing Man Table, we wanted to show students the huge impact families endure – not just soldiers," said Bremer.
Building upon the theme of faith and family, guest speaker Tom Kroon, Lutheran Military Support Group (LMSG) Director of Military Family Affairs discussed how service members and their families can benefit from LMSG's resources.
The nonprofit is run by a board of Evangelical Lutheran (WELS/ELS) Veterans from all branches of the military, hailing from different states. The board is primarily made up of veterans who have seen combat, Kroon said. Programs focus on supporting active service members, veterans and military families. Spiritual mailings – physical and online – got to service members overseas. Some of these packages contain Bibles small enough to fit into a soldier's pocket, Kroon said.
Kroon said he has witnessed the importance of these Bibles.
"My son has been to Iraq twice and received one when he was over there the first time, and he still uses it," Kroon said.
Families are also included in LMSG's support system. "When soldiers go overseas, their families need help," Kroon said. Military family-specific spiritual guidance is offered free of charge from LMSG. The group also offers support to the children of service members, sponsoring and offering scholarships to church camps, along with other resources.
Veterans have resources available through LMSG. If a veteran wishes to enter the seminary after college, for example, LMSG helps with funding.
Also included in the day's program were a devotion, recognition of veterans, and a special vocal performance by NELHS's Knights of the Round Table.
In addition to the Missing Man Table, a symbolic gesture featured in the program was the Greenlight a Vet campaign, which encourages individuals to change one lightbulb to green. This is to help show support for our veterans. Green lightbulbs were made available for those in attendance.
Bremer said he felt that, overall, the program was a success. "Several of the people there didn't even have a direct connection to our school," Bremer said, adding, "They [the students] seemed to be engaged."